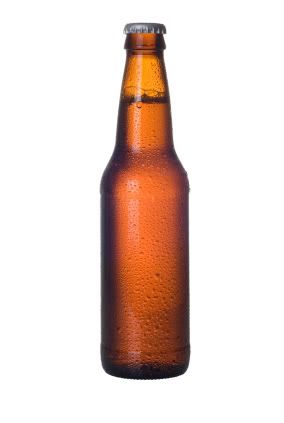 Okay, last time we did wine, so now it's time to give beer some air time. I am fortunate to work with a bona fide beermeister, and by that I do not mean somebody with Animal House style binge tendencies, but rather a man who actually brews his own. Trinity's controller, Lyle, has taught me most everything I know about the craft of making beer. He was kind enough to pull together a FAQ list and allow me to publish it here. Generally I would never challenge Lyle's beer acumen, but I do have to quibble with his answer to "Do I need to drink the beer tonight?" -- a simple "Yes!" would suffice! His beer is quite tasty, and whenever he passes along a sample, it does not undergo any type of storage procedure in my home, other than a brief stop in the fridge on the way to my tummy. Go ahead, call me a wort hog.
Q: How do you brew beer?
A: Brewing beer is a surprisingly simple process. First, I mash the grains. Mashing is the process of drawing the sugars from the grain. I do this by soaking the grain for an hour or so in hot water ranging from about 150 degrees to about 158 degrees. A lot of chemistry is happening during the mash, but the end result is a sugary solution called "wort". I drain the wort into a large pot and boil it for an hour or so, adding hops for bittering and/or flavoring at several points during the hour.
At the end of the boil, I cool the wort, transfer it into a fermentor and pitch yeast. The yeast spend the next week or so eating the sugars and converting them into alcohol and carbon dioxide. The carbon dioxide is expelled through an airlock in the top of my fermentor. I let the beer sit in the first fermentor for a couple weeks, then transfer it to a secondary container where I let it condition and clear for a couple more weeks. During this clearing period, most of the yeast and other solids fall to the bottom of the container.
The final step is to mix in a little corn sugar and transfer the flat beer into bottles. The remaining yeast eat the corn sugar, producing a tiny bit more alcohol and carbon dioxide. Since the bottles are capped, the carbon dioxide cannot escape and is absorbed into the beer, creating a carbonated beverage over a three week period. That's it!
Q: How long does it take to brew beer?
A: The actual brewing process on brew day is about six hours or so, although I'm sitting back and enjoying the fruits of my previous labors during much of this time. The typical time from brewing to drinking is about eight weeks. Lighter beers can be sooner and bigger, more complex beers can take up to six months or longer before they reach their full flavor potential.
Q: How much beer do you brew in a batch?
A: My batches currently are five gallons into the fermentor. By the time the beer reaches the bottles, I usually have enough to fill 45-48 12oz. bottles, sometimes less. I have plans to start brewing 10-gallon batches in the near future.
Q: How does your beer compare with other craft beers I am familiar with?
A: The brewing process and ingredients I use are the exact same as those used by any of the larger craft brewers. The only real difference is in the equipment used. The flavors in my beer will be comparable to commercial beers of similar styles. Many, if not most, craft brewers started out as homebrewers.
Q: Why is your beer cloudy?
A: There are two main reasons for this. First, my beer, as with almost all homebrews and many commercial craft beers, is bottle conditioned. This means there is a small amount of yeast in the bottle. Most of this yeast will settle to the bottom of the bottle after a few days of refrigeration. If you pour the yeast into your beer glass, it can cause cloudiness, and possibly some off flavors in the beer. Please pour carefully!
Second, my beer, as with almost all homebrews and many commercial craft beers, is not filtered. One byproduct of mashing grains is grain protein. When the beer is refrigerated, these unfiltered proteins show themselves in the form of "chill haze". As with the yeast, these proteins will settle to the bottom of the bottle after a few days in the refrigerator. Unlike the yeast, these proteins have no effect on the beer whatsoever, other than the cloudy appearance. You cannot taste them.
Q: Do I need to drink the beer tonight? How should I store the beer?
A: Properly stored, the beer will keep just fine for a very long time. Craft beers, particularly bottle conditioned craft beers, will age in much the same way wine ages. The flavor profile will gradually change over time. Refrigeration will slow this process, but there is no harm in leaving a bottle or two in a cool place just to see how it evolves. Freshness as measured by the "born on date" made famous by Budweiser is extremely overrated for most properly stored craft beers.
By properly stored, I mean keep it away from heat and out of the light, particularly direct sunlight. Sunlight causes a chemical reaction with hops, resulting in what is often described as a "skunky" smell and flavor. It takes less than an hour for this reaction to affect the beer. Corona and Heineken, because of their clear or green bottles, are good examples of often "skunked" beers. I believe these brewers skunk their beer on purpose as many people have grown fond of that flavor.
Q: Where do you get your bottles?
A: I buy beer bottles at the store. As luck would have it, they happen to be filled with a tasty liquid. I drink the beer, clean and sanitize the bottles and fill them up with my own homebrew. I can also just buy empty beer bottles at the homebrew supply shop, but where's the fun in that?
Thanks Lyle!