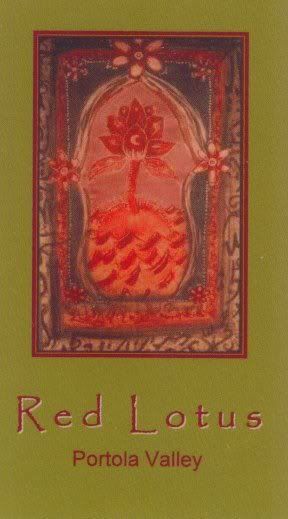 Last week Eric Chin of Bay Partners treated me to a wonderful lunch at the newly opened Red Lotus restaurant in the Ladera shopping center in Portola Valley (in the location formerly housing a different Asian eatery, New Bamboo). The meal was fantastic not only because of the food and ambience, but also the friendly and enthusiastic people behind the restaurant. Chef/owner David Yeo was formerly a trader for Cantor Fitzgerald, working in New York's World Trade Center. Prior to the 9/11 attack, he decided to leave Wall Street to pursue his passion for cooking. So, David says "cooking saved my life," noting solemnly that on 9/11 he lost seven dear friends who were his former colleagues at Cantor Fitzgerald. His impressive culinary resume includes working with Joel Robuchon in Paris, at Louis XV in Monaco (with Alain Ducasse and Sylvan Portay), and at venerable New York establishments Tavern on the Green and Le Cirque. In the Bay Area, he was a corporate chef for the Straits Restaurants, and most recently was Executive Chef at Asia de Cuba. David runs Red Lotus with his wife Belinda, and Eric can attest that anytime you pop into the restaurant, the couple is always there.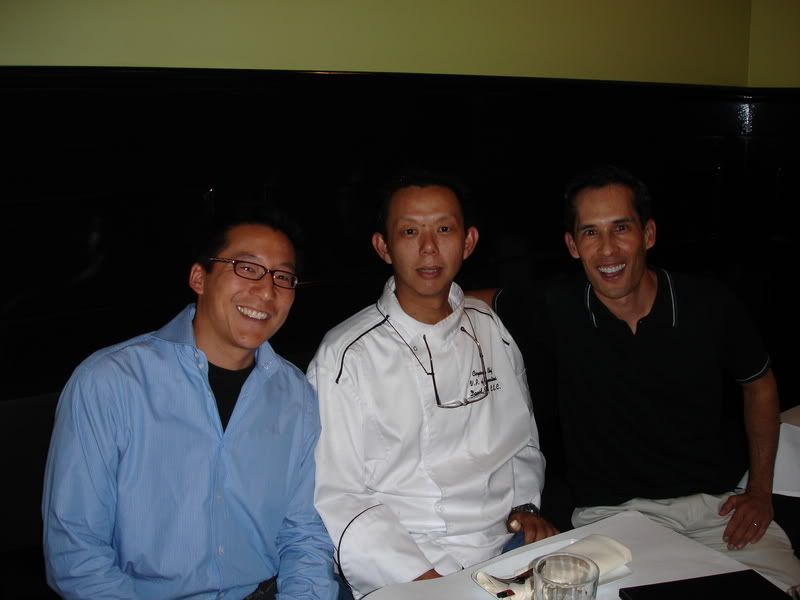 Despite the fact that Red Lotus has only been open for a few weeks, Eric has already visited three or four times including some takeout runs. This fact exemplifies David's desire to create a casual place where neighborhood residents such as Eric stop by regularly, rather than a high-end eatery one only visits for special occasions. Reflecting this design goal, the delicious food is quite reasonably priced considering the quality. Small plates, soups and salads, curry bowls, noodles, and rice dishes are $6-12. "Sharing plates" with generous portions of red meat or seafood are $15-25. Restaurant decor is elegant yet casual. David describes his food as "modern, but authentic," simple food done well. He resists the notion of "fusion," quipping that "fusion is confusion." Authenticity is important to him.
Eric and I put ourselves in the hands of chef David, who first produced a starter plate of roti (which is complimentary at dinner time) with curry dipping sauce, and chicken satay. I usually am not a fan of the latter dish, because at many places the chicken is underseasoned and overcooked, resulting in a dry, unexciting skewer of meat. David's creation, on the other hand, was seasoned with spices such as lemongrass, chili, and palm and brown sugars; the sugars caramelized, resulting in a delightfully flavorful exterior enveloping moist meat cooked to perfection. It's not just the technique, but the ingredients that count: David grinds his own dry spices on premise, for maximal freshness and punch. Also he uses all natural, hormone free products, with no artificial flavorings or MSG, naturally raised, local and sustainable. His produce comes entirely from California, and he aims to support local farmers whenever possible. The kitchen is clean and amazingly small considering the over three dozen items on the menu. David proudly pointed out how small his freezer is, and the fact that there were no cans anywhere to be seen (underscoring his penchant for using fresh ingredients).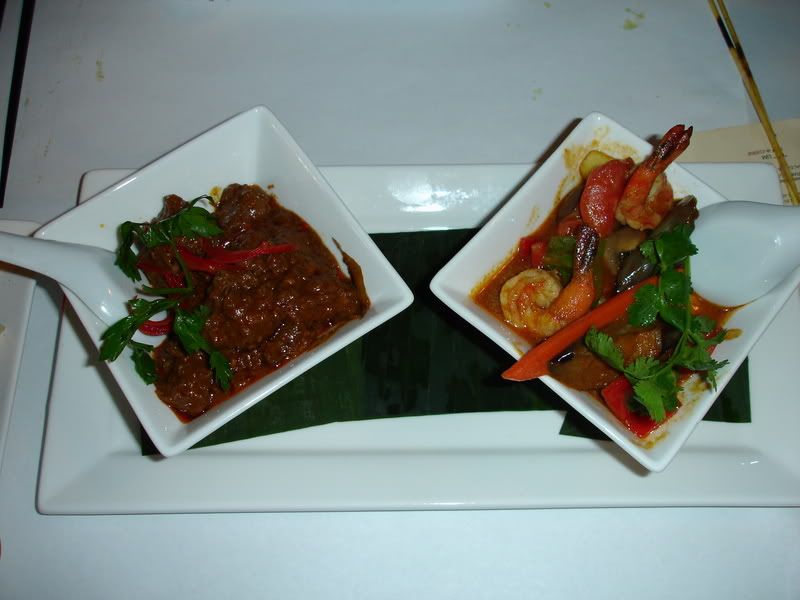 Our appetizer was followed by excellent preparations of Asian BBQ pork spare ribs (slow braised, then charbroiled over fire in a honey-soy BBQ glaze, toasted sesame, Szechuan fries and Asian slaw), tamarind shrimp curry (prawns simmered in a mild tamarind curry with long beans, baby carrots, eggplant, tomatoes, and okra), and Indonesian beef rendang (slow braised beef curry in a lemongrass-coconut and kaffir lime curry, pickled onions and vegetables). The fiery beef rendang was my favorite.
If you like flavorful Southeast Asian cuisine, or at least are willing to give it a try, I highly recommend Red Lotus. Ask for David and if he's not busy, he'll come out to say hello, and you'll get a chance to see firsthand just how passionate he is about his mission to create a valuable service for the community.
Red Lotus
3130 Alpine Road
Suite 300
Portola Valley, CA 94028
(650) 851-1718