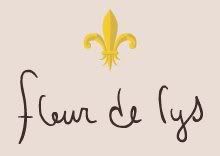 On Thursday I enjoyed the pleasure of accompanying Oren Michels, CEO of stealthy startup Mashery, on a long gastronomic adventure at Fleur De Lys in San Francisco. It was my first ever visit to the celebrated dining spot (if you read this blog regularly, you know my tastes run more to the every-day dining gems, but every once in a while I do treat my tummy to something more refined). Our afternoon started at the Office 2.0 conference, where Oren spoke on a panel, then proceeded to the Mashery offices for a quick demo of the web services startup's product, and finally on to the restaurant. Moments after stepping through the doorway, we grasped a flute of Pommery Brut Royal champagne and the cares of the day melted away. Oren knows Marcus Garcia, the dining room manager and sommelier, back from when Marcus graced the tables of Prima in Walnut Creek. Oren's habit at Fleur De Lys is to completely put himself in the hands of the chef and sommelier; rather than ordering food and wine, he says: just bring it! I signed on for the same deal, reflecting on the irony that the kid who was such a picky eater is now comfortable waltzing into a strange restaurant and eating whatever is put in front of him. In my younger years my mother would pull her hair out trying to cajole me into eating the excellent food she cooked, including even the simplest items such as peas and corn (I would eat the latter only on the cob, not in free niblet form -- such were the daily challenges she faced). I'm sure that somewhere mom is very proud that I now entirely devour the mystery-meal prix fixe.
Marcus and the entire Fleur De Lys staff took excellent care of us. Here's what they brought us:
Wine I: 2000 Domaine Trimbach Pinot Gris Reserve Personelle.
First appetizer: Symphony of smoked salmon tartare, chilled cream of salsify, tartine of foie gras & duck breast, and salad Lyonnaise.
Amuse bouche: Shooter of eggplant, shitake, and basil cream, paired with a hummus salad topped with a pea.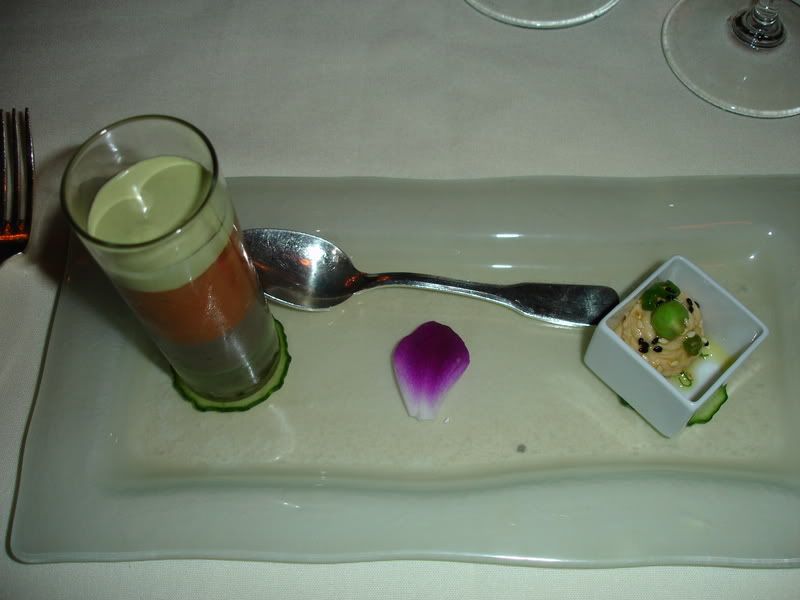 Second appetizer: Tasting of Alsatian choucroute: (1) choucroute soup, toasted spatzle, paprika oil; (2) choucroute fondant with Osetra caviar; (3) choucroute strudel with sauteed foie gras.
Wine II: 2004 Domaine Long-Depaquit Chablis.
Fish course: King salmon topped with pistachio, watercress coulis. Caramelized cauliflower, potato blinis, and caviar. (Yes, I took a chomp out of it before Oren reminded me to snap the photo!)
Wine III: (side by side tasting, so actually two wines) 2003 Robert Biale Zappa Red (blend of syrah, petite syrah, zinfandel); 2004 Clos des Papes, Chateauneuf-du-Pape. Tough to beat the Chateauneuf-du-Pape.
Meat course: Roasted squab breast filled with foie gras and truffles, with ravioli of squab leg confit, Sauternes ginger sauce.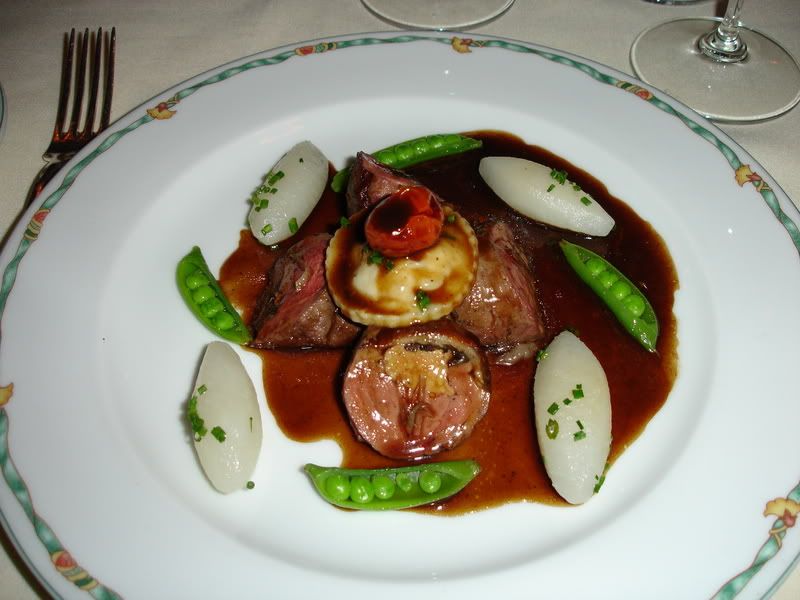 Wine IV: 2003 Papapietro-Perry, Pinot Noir (Russian River Valley, Leras Family Vineyard).
Cheese course: Assortment of artisanal French cheeses, including a pungent and memorable Epoisses (not pictured) served at room temperature with a spoon (as the Cheese Diaries put it, "If angels were cheese, they would be epoisses.").
Dessert course: Oren received the FleurBurger, lightly spiced dark chocolate ganache, home-made Beignet, served with a cherry flavored milkshake and frozen fennel ice cream "pommes frites."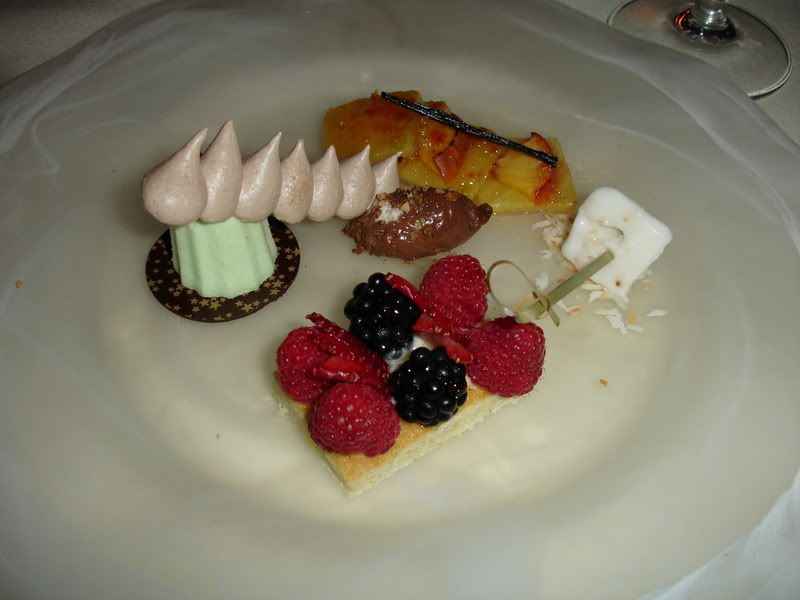 I enjoyed Fresh berries on "Genoise" which came with a frozen coconut lollypop, pineapple and peach brochette glazed with vanilla syrup, and lime mousse.
Wine V: 1998 Chateau des Tours, St. Croix du Mont.
Whew! To cap off the meal, we received a nice two-tier plate of mignardises which under normal circumstances would have qualified as a very nice dessert, but we were so stuffed that we could hardly do it justice.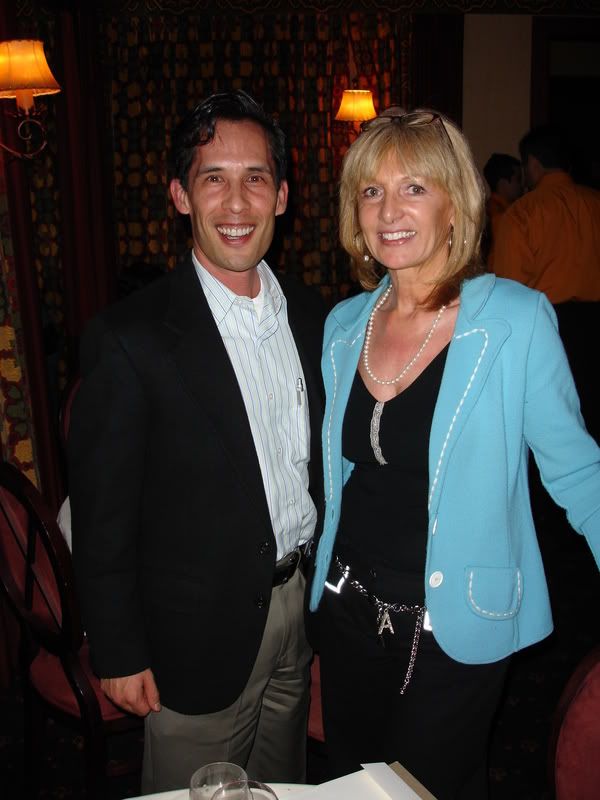 Marcus was kind enough to sit down and write out all the wines we had enjoyed, and the charming co-owner Chantal Keller (whose husband Hubert is the chef) emerged to greet us. Evening complete! I stumbled back into the night, overwhelmed but very satisfied.
Fleur De Lys
777 Sutter Street
San Francisco CA 94109
(415) 673-7779