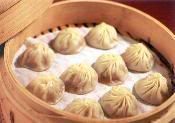 Upon graduating college I decided it was time to discover my roots and spend a year in Taiwan and China studying Chinese language and culture. As the bumbling foreigner, I provided countless hours of amusement for my native Chinese friends. Like the time I accidentally tried to order beef testicles (I could decipher three out of the four Chinese characters -- "crispy fried beef" -- but it turned out that the fourth character was really packed with meaning!).
It was no different the first time I experienced Shanghai-style juicy dumplings (in Mandarin, xiao long bao). Traditionally filled with pork and steamed in bamboo baskets on a bed of cabbage or lettuce, the magic of these dumplings comes in the form of tasty broth introduced by packing in some frozen or gelatinous soup during wrapping, which liquefies upon cooking. So a good xiao long bao is like a meatball swimming in flavorful broth, all wrapped up in a neat package. Proper eating technique varies slightly, but generally involves carefully

plucking the dumpling from the steamer, taking care not to pierce the delicate skin, and placing it into a large Chinese soup spoon. Some shredded fresh ginger and a few drops of dark vinegar may be added. From there, one can nibble off the top of the dumpling, slurp out most of the juice, then pop the remainder into the mouth. Neat and clean, no wasting of the juicy goodness. However, if you're the unwitting foreigner, you may re-enact my first tasting of xiao long bao which consisted of suspending the dumpling in mid-air as I bit it in half, thus unleashing a fountain of broth down my chin and onto the table, scalding my tongue in the process -- much to the amusement of my dining companions. One of my friends wryly noted, "You're wasting the best part!" Never a dull moment with the American jester in court.
That first taste of xiao long bao was actually at a place of some reknown, the multi-story Taipei house o' dumplings known as Din Tai Fung. Like me, the place has been kicking since 1969. In recent years the restauarant has expanded to include a second Taipei store as well as locations in Japan, Shanghai, Hong Kong, Singapore and Los Angeles (Arcadia). I have enjoyed juicy Shanghainese dumplings many times since leaving Taipei but have always felt that none could match the flavor and tenderness of Din Tai Fung. Perhaps it was the magic of the first time. I will say that the Nanxiang dumpling shop at Yu Yuan garden in Shanghai turns out some pretty incedible specimens with liberal use of crab meat (half the fun is watching the skilled restaurant staff shell crabs at blinding speed, pictured at left).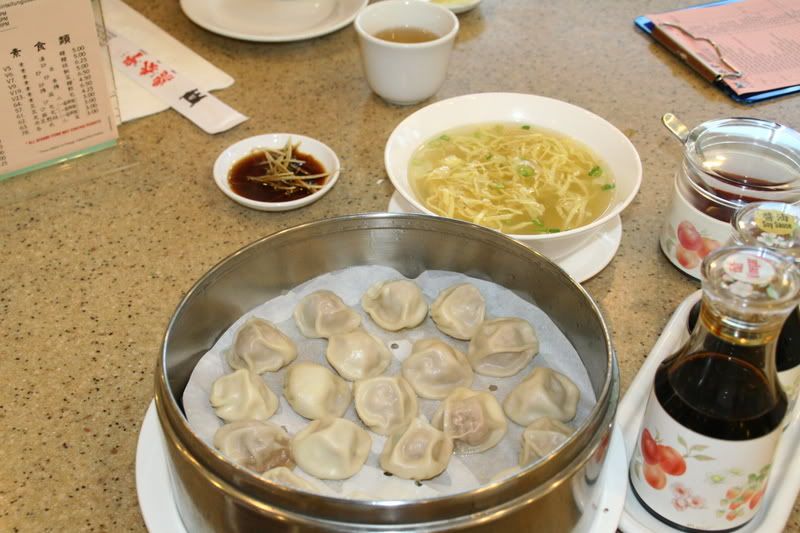 On my trip down to L.A. this weekend I was happy to visit the Arcadia branch of Din Tai Fung (Los Angeles Times article). Better yet, as we were driving there, my dining companions remarked that, at a nondescript restaurant across the street, they had recently enjoyed xiao long bao that were even tastier than at Din Tai Fung. Immediately we hatched the idea of a xiao long bao taste-off. Round 1 at Din Tai Fung: three varieties of xiao long bao (pork, crab, and soup style consumed in bowls of chicken broth) followed by a couple of desserts of sweet red bean paste dumplings and steamed sponge cake. Pausing to digest only for the three minutes it took to run the credit card through, we got up and walked right across the street to the considerably less famous Nice Time Deli. Round 2 was a second complete meal of xiao long bao (pork and crab), stir-fried Shanghainese rice cakes (chao nian gao), and for dessert a pan-fried crispy crepe filled with red bean paste. Then we proceeded to Phoenix Food Boutique for more dessert. Ay caramba! Three back-to-back restaurant visits including two complete meals -- even for a foodie nut like me, that was definitely a first. The dumpling taste-off was something of a draw, with underdog Nice Time actually scoring higher on juiciness while Din Tai Fung prevailed for the generosity of crab meat in that variety, and overal ambience and experience. Neither of them can compare to the Din Tai Fung in Taipei (at least as I remember it through the distant haze of memory) or Nanxiang.
Din Tai Fung does score extra for user interface. To spare the uninitiated the indignity of lost juices and bodily harm as I suffered, the Arcadia branch of Din Tai Fung actually provides a brief tutorial on the correct eating technique on the back of its chopsticks wrapper!
(Click to enlarge)


Here in the Bay Area, xiao long bao can be found in many Chinese restaurants, but unfortunately none of them stand out as superlative. Two places I frequently visit for dependable xiao long bao are Joy Restaurant in Foster City, and Happy Cafe in downtown San Mateo. Any tips from the Consuming Ambition readers?
DIN TAI FUNG Dumpling House
1108 S. Baldwin Ave.
Arcadia, CA 91007
(626) 574-7068
Joy Restaurant
1495 Beach Park Blvd.
Foster City, CA 94404
(650) 345-1762
Happy Cafe
250 South B Street
San Mateo, CA 94401
(650) 340-7138