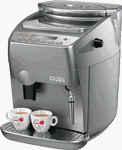 Our kitchen is filled with appliances and gadgetry, some of which are cherished and frequently used, others simply deadweight. One indulgence that sees lots of action is our Gaggia Syncrony Compact Digital automatic espresso machine, a whizzy device that provides no muss, no fuss jolts of java. But this modern coffee maker has not caused us to completely abandon the quaintness of our Bodum French press; there's something very satisfying about pushing that plunger down and watching through the glass as the ink-black elixir swirls about. Speaking of Bodum, we love our double wall Pavina glasses. These award-winning vessels are not only pretty but functional: pour scalding hot coffee or tea into one, and feel only the slightest hint of heat when you grasp it. Put an ice-cold beverage in, and see little or no condensation form on the outside. Most importantly, its thermal properties keep the hot stuff pipin' and cold stuff icy. Bodum makes double wall glasses in several different styles and sizes.
Last Christmas I gave my smarter half a KitchenAid stand mixer, which she said was really a gift for myself because she uses it to make baked goods (now who's the smarter half?). All I could say is, "It's the gift that keeps on giving!" She also gave me abuse for falling for the sales pitch of the Williams Sonoma sales rep and buying the Professional 5 Plus versus the smaller but perfectly capable Artisan model. I explained that for just a bit more money, I secured the 12-cup capacity and a much more powerful engine. Her response: "You're such a guy."
On a recent Saturday afternoon there were a bunch of young girls on the street corner selling snow cones cranked out by a very capable ice shaver. It was a classic lemonade stand setup, with the table on the sidewalk and the whole bit. All proceeds went to benefit the SPCA. Very precious. Of course I had to buy one. As I was walking back home munching sugary ice, I remembered that at home we have a much more modest ice shaver (hand crank, 99 Ranch special). We last used this little gem nine years ago to make the Taiwanese summer treat of bao bing, shaved ice smothered with various toppings such as red beans, peanuts, tapioca balls, grass jelly, and condensed milk. Next summer will be the 10-year anniversary of the last time we used the little guy, gotta dust it off and press it back into service!
Lest you conclude that I will buy any kitchen gadget I come across, I must point out that I do have standards. Recently I was watching late-night TV (bad habit, but at least I was multitasking by brushing my teeth at the same time). On comes a commercial for one of the more outlandish kitchen gadgets I've seen (though there are many candidates), the Scissor Slicer. Think scissors meets knife. "Slice lettuce right into the salad bowl! Bottom blade acts as a cutting board! No tedious chopping!" (Only tedious scissor slicing -- sounds like a one-way ticket to carpal tunnel syndrome, USA). C'mon people, learn some knife skills!